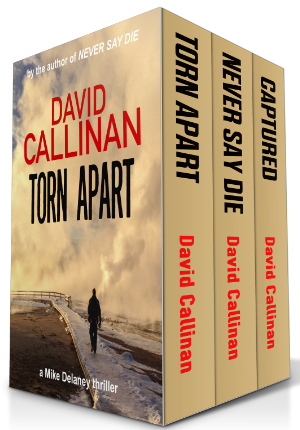 Mike Delaney triple thriller boxset 3
Torn Apart • Never Say Die • Captured
Buy now from the these great outlets
Description...
Mike Delaney, the ex-assassin, ex-cop, and ex-monk has thrilled readers across the globe leaving them breathless and desperate for more. If you love thriller mysteries with action, suspense, and a touch of mysticism and romance, then this box set is for you.

What Amazon readers say

'Nonstop Action and Suspense. David Callinan knocks another one out of the park' – R. Robinson

'You will never guess the end.' Amazon customer

'Torn Apart is a Whodunits' Whodunit. The book flowed like an operatic concerto.' – Tex

'Never Say Die had me from page one.' – Sarah Perez

TORN APART
A Catholic nun. A deadly assassin. Bound together by blood. Twins torn apart at birth. Then they are reunited. This detonates an unstoppable explosion of events that embroils Mike Delaney in the battle of his life.

NEVER SAY DIE
They murder scores of young women and steal their DNA. They think their freakish assassin will never be caught. That's their first mistake.

CAPTURED
A seductive woman with a deadly secret. Mike Delaney is in the right place at the wrong time Delaney is an avenger with the soul of a Zen master. Then he comes face-to-face with The Mammoth.
Excerpt...