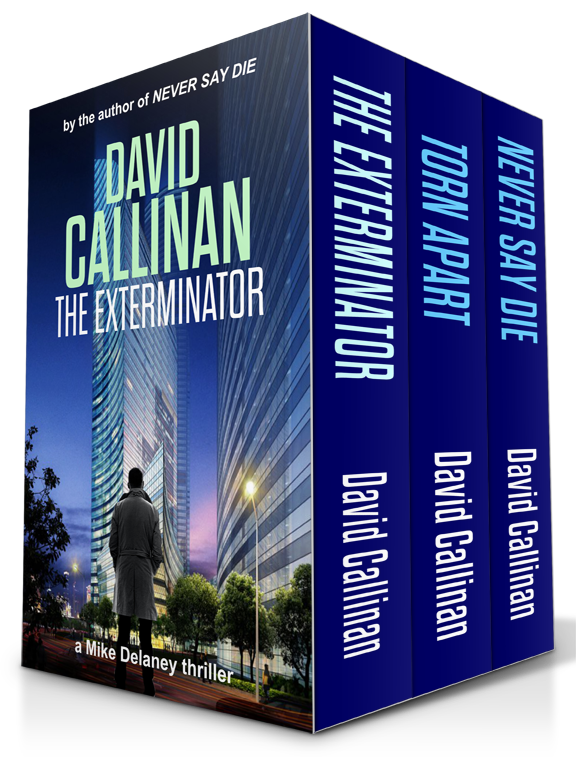 Mike Delaney triple thriller boxset 2
The Exterminator • Never Say Die • Torn Apart
Buy now from the these great outlets
Description...
If you enjoy Lee Child, John Sandford, Jo Nesbo or Dennis Lehane you'll love the Mike Delaney series. The ex-assassin, ex-cop and former monk in three scintillating action thrillers with more plot twists than a corkscrew.

What readers say about the 5-star Delaney thrillers

' Thought provoking, scary, and adventurous.'

' Kidnapping, murder and lots of intrigue and action.'

'Don't miss this one. I love Mike Delaney thrillers. I especially enjoy the entwining of the spiritual and Mike's other side.'

'Non-stop action and suspense. David Callinan hits another one out of the park.'

THE EXTERMINATOR
When the hunter becomes the hunted there is only one survivor. Mike Delaney's past as a retired assassin erupts to entangle him in an international high-tech conspiracy. His former commanding officer is murdered and Delaney's true identity is uncovered.

NEVER SAY DIE
They murder scores of young women and steal their DNA. They think their freakish assassin will never be caught.

That's their first mistake.

Then they kill Mike Delaney's pregnant wife – a journalist close to uncovering their terrifying global plot.

That's their second.

TORN APART
A Catholic nun. A deadly assassin. Bound together by blood. Twins torn apart at birth.. Then they are reunited by Mike Delaney..
This detonates an unstoppable explosion of events that embroils Mike Delaney in the battle of his life.
Excerpt...