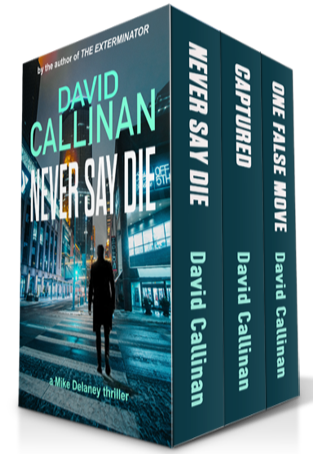 Mike Delaney triple thriller boxset 1
Never Say Die • Captured • One False Move
Buy now from the these great outlets
Description...
Mike Delaney, the ex-assassin, ex-cop, and ex-monk, has thrilled readers across the globe leaving them breathless and desperate for more.

If you love thriller mysteries with action, suspense, and a touch of mysticism and romance, then this boxset delivers.

What fans say:
'The plots will blow your mind',
'Thrillers you MUST NOT miss',
'Mike Delaney is my new favorite hero'.
'For lovers of Lee Child, Gregg Hurwitz, Mark Dawson, Dennis Lehane, Jo Nesbo

Delaney goes where others fear to tread. Part of the citizen's crime-busting website confess-confess, his codename is 'The Monk'. He's a man gripped by spiritual doubts and aspirations, a master of a highly secret martial art (unknown outside the monastic Brothers of Light), and a belief in love and goodness above all. But life has a habit of pitting him against extreme danger, and unbelievable antagonists weirder than Dr. Lecter.

Book One: 'One False Move': A crazed escapee and child abuser kidnaps Delaney's wheelchair-bound friend and his 15-year old daughter. Delaney has just four hours to save them.

Book Two: 'Captured': He's breathing down her neck. She has something precious he wants. Only Mike Delaney can rescue her. Then he comes up against The Mammoth.

Book Three: 'Never Say Die': Delaney vowed never to kill again when he left the monastery to get married - until his pregnant wife is murdered. Now, all bets are off. A secret organization has slaughtered scores of young women for a terrifying purpose. Delaney must track down The Priest, a contract serial killer like no other you've ever read about.
Excerpt...